Sage 300 Add-On: Tairox Software
Tairox offers over 20 + software solutions. In this article we are going to highlight our

favorite four solutions

:
Fast Data Integrity
If you ran the standard Sage 300 data integrity on any reasonably sized database, it could take 3 to 12 hours to run for all modules. With the Tairox Fast Data Integrity software you can cut that time down to minutes. Even on a large database, Fast Data Integrity can run in less than an hour.
Run Data Integrity Checks on a Regular Basis
Front Line Systems highly recommends that all of our Sage 300 clients run Data Integrity on a regular basis – it is critical to the security and stability of your system. Data Integrity alerts you to corruption within your database, procedures that need to be fixed to keep your data clean, and helps minimize your risk of crashing the system. Many of our clients don't take the time to run data integrity because the Sage 300 version takes so long to run. Tairox' s Fast Data Integrity software eliminates that problem. It is a quick and inexpensive solution that helps you avoid costly "down time" in the future.
Better Error Messages
In a number of instances, Fast Data Integrity has also given us more detailed error messages than the Standard Sage 300 error messages, allowing your staff and your Front Line consultant to resolve issues as quickly as possible. Read more about Fast Data Integrity here.
Fast Clear History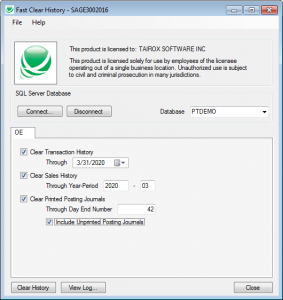 We are very excited about this new product! Clients often ask us if they can delete old data from their Sage 300 database and our immediate answer is –  no, deleting a few records instead of an entire period of history will cause massive data integrity problems. Of course the follow up question to that is, can we purge old periods of history?
And until now, we often discouraged this practice because it was a long and costly process. The standard clear history is run based on record or transaction type and period in each module. Even purging one record type for a period can take many hours to run.
The Tairox Fast Clear History software is "lightning fast" at purging history, which means it is a huge step forward in helping to keep your data clean, relevant and a manageable size! (Removing those old records and transactions, also makes it much easier for your team to find information and enter transactions into your system.)
Tairox Productivity Toolkits
Tairox offers a Productivity Toolkit for most standard Sage 300 modules (e.g. General Ledger, Accounts Payable, Accounts Receivable, Order Entry, Inventory Control, etc.) You have the option to buy the productivity toolkit for All Modules or just the module you are interested in. There are so many features in each toolkit, we'd have a hard time describing them all. So, let's just look at some of our favorites in one of the most popular modules…
Taking a deeper look at the Productivity Toolkit for Order Entry:
One of our favorite features in the OE productivity tool kit is the ability to quickly ship and invoice open orders from a single screen. You can query orders based on a number of criteria and then select 'All' or just the orders you want to ship and/or invoice. This is a great option for clients who do not have to make any changes, such as adding freight charges, to the order before shipping.
Just like Google
Another outstanding feature in the Productivity Toolkits is the Fast Finder. The standard Sage 300 finder screen allows you to look for a record based on only one piece of information. The Fast Finder runs more like a Google search engine. It allows you to take multiple pieces of data and enter them in the Search toolbar. Tairox then quickly searches through all of the records and fields for that information. It also runs a lot faster than the Standard Finder in Sage 300. If your Finder is slow, or you need to search for multiple pieces of data, we highly recommend Tairox' s Productivity toolkits.
Lookup History, Create and Update Orders
Tairox also allows you to quickly pull up customer sales history, and based on that sales history, create a new order (using the pricing from the old order or the customer's current pricing.) You also have the ability to update orders – if you need to change pricing, expected ship dates or order statuses (on hold or off hold), the productivity toolkit gives you the ability to do this quickly and easily from a single screen.
Database Dump and Load
For most of our large clients, we have created a "sample database" – a copy of their live data, that allows them to test new procedures, or any database changes they want to make before implementing in their live system. Of course, this sample data needs to be replaced on a regular basis in order to keep it relevant to the live system. The Database Dump and Load solution allows us to quickly copy and replace that existing sample database.
The dump and load process is also one of the tools we use to fix a corrupt database. Dumping the live data and loading it back cleans up the table and field structures. While Sage 300 has its own dump and load software, the Tairox software speeds things up considerably, saving you "down time" and money. Read more about a Sage 300 Database Dump and Load here.
The more we dig into Tairox software, the more there is to love, because they are committed to filling the automation and processing gaps in your Sage 300 software:
Speeding up everyday procedures that seem cumbersome
Pulling information quicker, faster and in a more logical way
Creating and updating transactions as quickly as possible
Tairox is always looking for new features and software to create. So if you don't see what you need on their website, let your Front Line consultant know, and they can start a conversation with Tairox about it.
What's Next?
Please go to the Tairox software website to view detailed information on all of their product offerings. Contact Front Line Systems for any specific questions you have about Tairox Software solutions.
Review and Bookmark: Ultimate Sage 300 Guide for Sage 300 Users
Background on Tairox Software
Don Thompson, one of the key developers at Tairox, is also one of the original co-founders of Accpac (Sage 300). He has over 35 years of Sage 300 experience. Tairox software specializes in building software customizations that improve on your existing Sage 300 functionality. Everything they build runs within the Sage 300 framework, and works to further automate and streamline your processes.
About Front Line Systems
Front Line Systems is an ERP Consulting Firm, specializing in Sage 300, with headquarters in Minneapolis, Minnesota. We are dedicated to helping businesses solve their accounting, manufacturing and warehouse concerns. We believe that your business has an amazing capacity for innovation and growth and that technology can help get you there. Front Line Systems is a technology partner that solves problems and creates solutions for the life of your business. We provide Sage 300 ERP Consulting, Warehouse Management Consulting and CRM Consulting Services in Minnesota, Wisconsin, Virginia, DC, Maryland, Connecticut (New England) and serve clients across the US. Contact us at 866-435-0243 today.