HighJump Warehouse Edge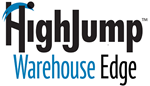 HighJump Warehouse Edge (a Körber product  ) offers you a feature-rich solution to automate, streamline and verify all your in-warehouse processes. From the receiving dock to the shipping dock, HighJump warehouse management software tracks every movement of stock into, out of, and within the warehouse.
The HighJump Warehouse Edge WMS solution is must-have for your team if you want to increase your pick, pack & ship capacity or reduce costs (by minimizing charge backs or incorrect shipments)
Learn more about HighJump Warehouse Edge.
Schedule Your Warehouse Evaluation
For more information on warehouse automation, please contact Front Line Systems DC Office at 540-785-0268.
View Warehouse Efficiency Resources | Contact Front Line Systems | Back to Home