This is the first in a two-part blog series of what's new in Sage 300 version 2022, product updates 1 and 2. In this article we will take a closer look at 'What's new in Sage 300 version 2022 product update 1'.
Let's start by looking at the web-screen improvements in Sage 300 Product update one.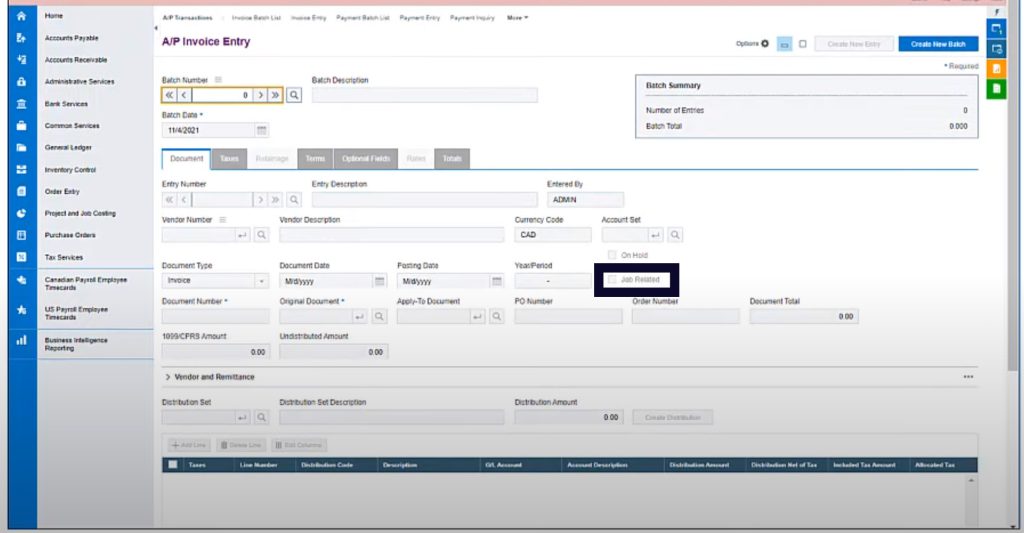 The web screen improvement that will benefit Sage 300 users who use PJC to manage contracts and jobs include the three updates below:
In Sage 300 version 2022 product update 1, you can now use the web screens to access your job-related documents in AP. There is a Job-related option in Sage 300 that you can now check on your web screens. When this option is chosen, new columns appear in the grid where you can enter a contract, project, category, billing rate and type, etc.
If you are entering a prepayment for an invoice, you will see a job-related option for the prepayment. If you click Jobs, then you can enter the Job-related information for the prepayment. For an invoice, the AP batch listing report now includes a show job details option as well.
Additionally, the AP Posting Journals Report for an invoice now has the option to include Job details in the report.
Improved process for printing custom reports
Now when you print a report in Sage 300, a preview is no longer displayed in the SAP Crystal Reports viewer. Instead, an Export Report screen appears in a new browser tab and provides options for saving the report to a file. You then have the option to save the report as a pdf and print it.
Sage 300 version 2022 Product Update 1 – UX improvements for web screens
Some of the UX improvements that you will notice with the web screens are that the sign-on screen button will be disabled when the company details are being entered on the screen.
 Improved messaging is now available for errors and password changes.
New navigation buttons have been added on key fields so you can easily move to the first, previous, next, and last records.
Desktop screens improvement
The Finder functionality now works in the Sage 300 Financial Reporter screen when using the Microsoft Excel 64-bit version.
Are you interested in learning more about updating to the latest version of Sage 300? Contact Front Line Systems for a free consultation.
About Front Line Systems
Front Line Systems is an ERP Consulting Firm with headquarters in Minneapolis, Minnesota. We are dedicated to helping businesses solve their accounting, manufacturing, and warehouse concerns. We believe that your business has an amazing capacity for innovation and growth and that technology can help get you there.
Front Line Systems is a technology partner that solves problems and creates solutions for the life of your business. We provide Sage 300 ERP Consulting in Minnesota and across the United States. We also offer Sage 50 Consulting, Warehouse Management Consulting (HighJump Warehouse Edge), and CRM Consulting Services and serve clients across the US. Contact us at 866-435-0243 today.