Sage 300 ERP and Add-ons (Business Management Software)
Core Products International manufactures and markets industry leading orthopedic soft goods such as cervical pillows, hot/cold packs, and a variety of ankle, knee, and back braces across the United States.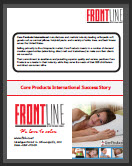 Selling primarily to the chiropractic market, Core Products invests in a number of demand creation opportunities (advertising, direct mail, and tradeshows) to make sure their clients are successful.
Their commitment to excellence and providing superior quality and service, positions Core Products as a leader in their industry, while they serve the needs of their B2B distributors and direct consumers alike.
Read Core Products International | Sage 300 ERP accounting software | Front Line Systems success story
Download Core Products International Success Story (pdf)
---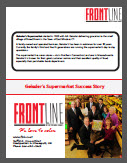 Geissler's Supermarket started in 1923 with A.F. Geissler delivering groceries to the small village of Broad Brook in the Town of East Windsor, CT. A family owned and operated business, Geissler's has been in existence for over 90 years.
Currently the family's third and fourth generations are running the supermarket's day to day operations. The supermarket has seven stores – six in Northern Connecticut and one in Massachusetts. Geissler's is known for their great customer service and their excellent quality of food, especially their perishable foods department.
Jennifer Blanchard, Office Manager and third generation family member at Geissler's says, "Front Line Systems is always able to take anything I imagine and turn it into reality!"
Read Geissler's Supermarket | Sage 300 ERP accounting software | Front Line Systems success story
Download Geissler's Supermarkets success story (pdf)