Discover the Do's and Dont's of Sage 300 Year-End Processing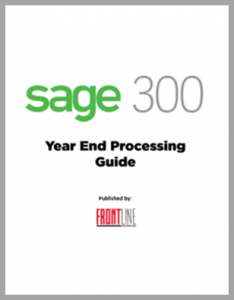 To help you keep your year-end accounting stress down, our Front Line Systems team created this Sage 300 Year-End Processing Guide for you. It contains lots of actionable Sage 300 year-end information. 
Make sure to print a hard copy of this guide and make notes. If you have any questions, after reviewing the guide don't hesitate to contact us at Front Line Systems. There are many year-end procedures available in Sage 300 for you to think about. Download the guide below.
Other Sage 300 Resources
Subscribe to our YouTube Channel | View Ultimate Sage 300 Guide | Contact Front Line Systems