Sage 300 version 2021 was released in September 2020
Both the Cloud and perpetual versions of Sage 300 were updated in this release. First, we'll highlight the updates made to the Sage 300 Cloud version followed by the updates made to the perpetual version. If you have any questions about Sage 300, contact us via our website or call us at 866-435-0243 to talk to a Sage 300 specialist.
Sage 300 Cloud Version Only Updates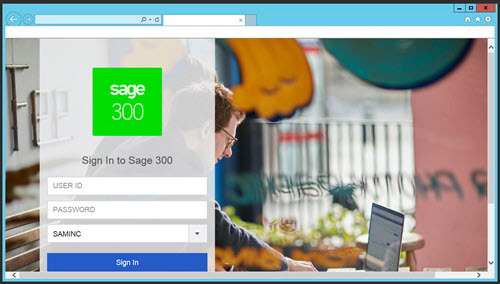 Get Access to a Faster Way to Accept Payments
A 'Pay Now' button has been added to Sage 300 AR invoices. So, you can now collect and process invoice payments electronically. Sage has partnered with Paypal and Stripe to add this functionality to the software.
Please note: Currently you cannot accept partial payments or multi-currency payments with this feature. Get a complete overview of Payments acceptance in Sage 300 here.
AR Withholding Taxes Can be Included in Invoices 
In addition to withholding taxes in AP (a feature introduced in Sage 300 version 2019), Sage 300 users can now withhold taxes during a sale to customers and remit that tax amount to tax authorities. The taxes can be calculated based on the sales price or as a flat amount per transaction; and Sage 300 users have the ability to withhold taxes partially or completely.
Sage 300 Web Screen Enhancements
See more information without having to scroll down

Sage 300 Cloud users now have the ability to change the size of the text on their web screens (make the text size smaller) which will allow users to see more of the screen in one view without having to scroll up and down.
There are two ways Sage 300 users can make changes to the text size on the screens:
Change to all screens – The text size for all screens can be changed using the Text size setting on the Settings menu in the Welcome bar.
Change to specific screens – You can limit the change of the text size setting to specific screens by using the Options menu for the screen.
Specify BOM numbers on details for shipments, credit notes, and debit notes
When entering a transaction from scratch directly in the O/E Shipment Entry or O/E Credit/Debit Note Entry screens Sage 300 users can now specify a Bill of Material number in the Kit/BOM field.
Customize report printing so you can keep more web screens open
By default, Sage 300 users can have a maximum of ten web screens open at a time. Up till now, printed reports that are open, counted toward the ten screen limit. Now you have the ability to customize your web screens so that printed reports do not count as open screens.
Sage 300 ERP Perpetual Version Updates 
These updates are available in both the Sage 300 perpetual version and Sage 300 cloud version
Expanded Character Limits
Check and Deposit numbers both have an expanded character limit from 9 to 15 digits. This update will allow these fields to not get truncated (which in the past could lead to a longer auditing process.)
 O/E Template Update 
Customer account sets can now be specified in the Order Entry templates. Order Entry transactions for customers that have no record in Accounts Receivable, will by default use the customer account set specified in the O/E template.
US Payroll Enhancements – Support has been added for Non-Resident Alien status on federal income tax
On the Payroll Employees window, when setting up federal income tax for an employee, you now have the option to indicate if the employee is a Non-Resident Alien. View the full Payroll release notes here.
Want to upgrade to Sage 300 version 2021? 

Schedule a complimentary consultation with a Front Line Systems Sage 300 specialist to discuss the pros and cons of upgrading to the latest version of Sage 300. We look forward to connecting with you soon.