Ensure that Your Information is Secure
Upgrade to the latest version of Sage 300 to safeguard your business data. Get access to all the product updates and make sure your software investment is safe and the system is working smoothly.
Stay On the Latest Technology
Gain a technological edge over your competitors. Ensure that your software is compatible with the latest operating systems and newest releases of Windows, Microsoft Office, Java etc. and easily integrates with other business software applications.
Get Access to Several New and Improved Features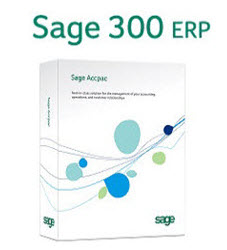 When you upgrade your Sage 300 (Accpac) system, you will get access to many new and improved features – e.g. improved bank reconciliation, inventory control processing, etc.
Ensure compliance with ACA requirements
Save time posting new records (directly from the data entry screens)
See what's new in Sage 300 version 2016 | Reasons to Upgrade to Sage 300 version 2016
New browser-based home page and web screens for Sage 300
Reduce stock outs and excess inventory with Sage Inventory Advisor
Get paid faster with Sage Billing and Payments
See what's new in Sage 300 version 2014 | Reasons to Upgrade to Sage 300 version 2014
The newer features are noted to improve performance, and increase your compatibility with other software – e.g. Microsoft Office 2013 and 2016 versions, Windows 8 and Windows 10 operating systems.
Get Sage Payroll and Product Updates
Upgrading to a Sage supported version will give you access to payroll tax updates and other form changes for your payroll. You will also get additional product updates that continue to improve or fix any bugs found in the current supported versions of Sage 300.
Sage Is Expected to Change to a Yearly Release Schedule
Sage is expected to go to a regular release schedule. This may mean releasing a new version of Sage 300 every year. So, instead of updating your Sage 300 system every 6 years, you will now be required to upgrade your Sage 300 ERP system every 3 years, to stay within the Sage support system.
Important Note: Sage currently supports N minus (-) two versions of the Sage 300 system (they support the current version of Sage 300 and the two versions prior to it.)
Sage version 2017 will be released in August 2016. Once that version is released, Sage 2012 will no longer be supported by Sage. The new supported versions will be Sage 2014, Sage 2016 and Sage 2017.
What Is Your Current Sage 300 Version?
Log into your Sage 300 system, and then go to Help and System Information.
Front Line Systems will continue to support your business regardless of your Sage 300 version
We value your business and want you to get the greatest ROI from your business technology investment, so we strongly encourage you to keep your Sage 300 system up-to-date. However, we will continue to support you, even if you are not under Sage support.
Please note: If your Sage 300 system is not currently being supported by Sage, they will not give us any additional support for updates and technical issues that occur using newer releases of Microsoft Office, Java, Windows and the newest operating systems.
Review and bookmark our Ultimate Sage 300 Guide for Sage 300 Users.
Contact Front Line Systems
For more information to discuss your Sage 300 system update, please contact Front line Systems at 866-435-0243, or visit us at www.flsinc.net
(Blog article written by Mike Lunnemann, Sage 300 consultant at Front Line Systems)
______________________________________________________________________________________________________________________________________
About Front Line Systems
Front Line Systems is an ERP Consulting Firm with its headquarters in Minneapolis, Minnesota. We are dedicated to helping businesses solve their accounting, manufacturing and warehouse concerns. We believe that your business has an amazing capacity for innovation and growth, and that technology can help you realize that capacity.
Front Line Systems is a technology partner that solves problems and creates solutions for the life of your business. We provide Sage 300 ERP software, WMS software, Manufacturing software and CRM software implementation, support and consulting services. We have offices in Minnesota, Wisconsin, Virginia, DC, Maryland, Connecticut (New England) and serve clients across the US. Contact Front Line Systems at 866-435-0243 or visit us online at www.flsinc.net. We look forward to serving you.