We asked our clients to tell us what they thought about the Sage Inspire Tour, New York event last year.
Here is what Jessica Jones from Telaid had to say: "I believe the Inspire tour was beneficial. I always find that these events are worthy of a day of my time."
Four reasons Jessica recommends attending the Sage Inspire Tour 2015, New York Event are to: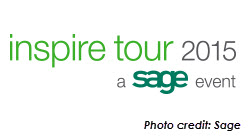 Hear about the latest features, get a feel for where the Sage mindset is currently and what they are focusing on.
Talk to 3rd party vendors directly (there were just the right amount of vendors booths for a one day event so I got a chance to speak to all that I was interested in).
Network with others, I particularly like that both customers and partners attend so you can have a lot of informal but meaningful conversations with people from both perspectives.
Catch up with Fred (Sage Partner, Connecticut).
We're thankful that Jessica shared her comments with us.
Come, join us! We look forward to seeing you at the Sage Inspire Tour event in New York on April 21, 2015.
View Agenda Here | Register Now
Event Details: Date: April 21, 2015 | Time: 8:30 am to 4:00 pm | Location: The Roosevelt Hotel | Price: Free
If you have any questions about the Sage Inspire Tour event in New York, contact Front Line Systems today.