Sage 300: Custom Report Shortcuts for All Users
While Sage 300 includes hundreds of reports out of the box, did you also know that you can create custom reports from scratch using the Crystal Reports Designer software?

You can then run those reports directly from inside Sage 300 using a report shor

tcut. 
Choose the location in Sage 300 where you want the report to appear, and right click on a blank area of the Sage 300 desktop. Choose New, Report.
Enter a title for your custom report, and then you can check the box at the bottom of the screen called 'All Users' – this check box allows all users in Sage 300 to access the report. Hit the "Next" button, and browse out to where the Crystal Report is saved, select the report, and hit Finish.
Note: Crystal Reports software must be purchased separately or you can contact your Front Line consultant to write a custom report for you. Also, please let your users know that if they delete the report short cut, they are deleting it for everyone.
Sage 300 Workflow
By default the Admin is the only person that gets rights to this functionality.
First navigate to the Security area.
Then give people rights to visual process flows.
If you login to Sage 300 as Admin, go down to the very bottom of the screen.
The last folder is called Visual Process Flows. Sage has created a Visual Process Flow for the standard procedures that a user would have to perform in each module.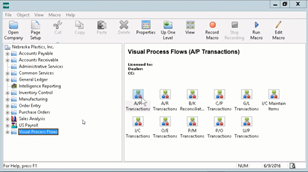 E.g. When you go to the AP Transactions Visual Process Flow, you will see the typical transactions people perform  – e.g. Enter a vendor invoice, make a payment against that invoice, run a couple of reports, or add and modify vendor records.
The visual process flow is just a way to visually see all of the options that are popular within a module. Click on the options and it will automatically open those Sage 300 screens for you. You also have the ability to modify a visual process flow.
E.g. If you have a customer service department, where you get new customer service people regularly. Use the Visual Process Flow to train new people on how to do their job and how to get the right screens. Visual Process Flows are especially useful for people who aren't in the system very often. You only have to give them access to certain functions and you want to give them a quick and easy way to look around and navigate.
Review and bookmark our Ultimate Sage 300 Guide for Sage 300 Users.
About Front Line Systems
Front Line Systems is an ERP Consulting Firm with headquarters in Minneapolis, Minnesota.We are dedicated to helping businesses solve their accounting, manufacturing and warehouse concerns. We believe that your business has an amazing capacity for innovation and growth and that technology can help get you there.
Front Line Systems is a technology partner that solves problems and creates solutions for the life of your business. We provide ERP Consulting, Warehouse Management Consulting and CRM Consulting Services in Minnesota, Wisconsin, Virginia, DC, Maryland, Connecticut (New England) and serve clients across the US. Contact us at 866-435-0243 today.