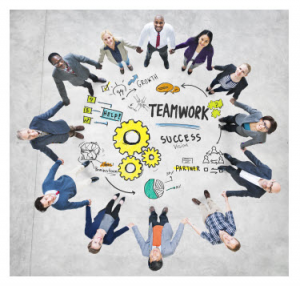 Did you know that 45% of your daily activities are based on habits? (Source: Power of Habit, Charles Duhigg). Duhigg says that based on research, once an activity / pattern becomes a habit you stop thinking about it, because your brain is wired to conserve energy. Just like you have personal habits, your business also has habits. Some of these habits may be working for you, and some may be working against you.
At the end of 2016, many of our Front-Line Systems team members were becoming overwhelmed at work. We were doing many things right for our clients, but some business processes just weren't working and were hurting our productivity and attitude.  We were working harder, but could we work smarter and more cohesively?
So, we took a step back, took a good look at where we were, and answered some important business strategy questions. Narrowing the business strategy down to measurable and actionable steps has helped us keep moving forward towards our goals.
What did we have to commit to? A day of going through the process (with quarterly follow-up meetings).
Need help with your business strategy? Give us a call at 866-435-0243. We'll help you answer:
– The important questions you need to answer to discover your business strategy
– Real actionable strategies to help you get there
– Research from the experts and what they recommend you do to create an innovative culture and a success driven business.
– How much does negativity affect / cost your business and a plan to overcome it.
About Front Line Systems
Front Line Systems is an business technology solutions consulting firm with headquarters in Minneapolis, Minnesota. We are dedicated to helping businesses solve their accounting, CRM, manufacturing and warehouse concerns. We believe that your business has an amazing capacity for innovation and growth and that technology can help get you there.
Front Line Systems is a technology partner that solves problems and creates solutions for the life of your business. We provide Sage 300 software implementation, support and consulting services in Minnesota, Wisconsin, Virginia, DC, Maryland, Connecticut (New England) and serve clients across the US.