To best understand business management software lets break it down into four different software categories. Namely, operations management software, CRM software, accounting software and business intelligence software.
In part 1 of this business management software blog series, we will take a look at operations management software. In part 2 of this blog series we will take a more in-depth look at accounting software, CRM software and business intelligence software.
Business Management Software Explained: What is Operations Management Software?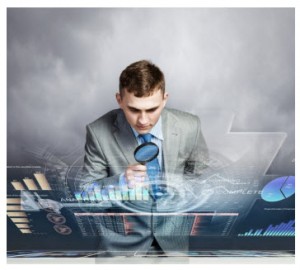 Unlike CRM systems and accounting systems which are horizontal business management software applications, operations management software is considered a vertical business management software application that is focused on specific business processes and types of businesses.
Operations management software is deeply involved with automating the day to day operations of the business by helping to plan and execute the businesses core and critical activities to manage products or services and generate revenue and expenses.
Business management software: What are the pros and cons of operations management software?
When properly implemented, operations management software can make a huge difference by increasing your productivity and optimizing your investment in operating assets such as equipment and inventory.
On the flip side, businesses that are highly dependent on operations management software are also exposed to the potentially damaging effects of business interruption, loss of business or increased expenses because of ineffective systems, poor implementation, system malfunction or outright breakdown.
Many operations management software solutions cater to fairly broad business functions, such as Retail Point of Sale, Manufacturing, Distribution and Warehouse Management, Field Service management, Job and Project Management, and Time and Billing. There are also many highly specialized operations management software systems that focus on very specific types of businesses too numerous to mention here.
A few examples of specific types of businesses that excel when using operations management software are:
High volume distributors with multiple warehouses and shipping methods – Businesses that require a very high degree of accuracy and quick turnaround in moving products through receiving, put away, picking and shipping. They also need tight integration to sales order processing, purchasing activities and shipping services, along with sophisticated inventory control systems to optimize supply chain management.  EDI systems are usually required when selling to large retail store customers, and shipping errors are subject to costly returns and charge-back fees.
Business to business (B2B) distributors that have extensive route delivery systems common in the food and beverages industries –  These businesses need to make sure the right product gets on the right truck on the right day at the right customer stop and that it gets delivered at the right price and payment terms. Operations management software helps these businesses manage the sales order, delivery and invoicing cycle (including pre-delivery order taking with route customers, the creation of load sheets to specify what needs to be on the truck for each route and driver, and delivery tickets for each customer stop).  Hand held computing devices such as smart phones, tablets, card swiping devices and printers allow for greater sophistication for these types of systems.
Hospitality organizations such as hotels and resorts – They need operations management software to manage booking, registration, billing and payments for rooms, events, services and related facilities, staffing and maintenance.  Since many such organizations are multi-location, they also need sophisticated inter-company transactions, cash management and financial reporting tools. They also need a web site to accommodate online registration.
Manufacturers of pharmaceuticals or food – Both are highly regulated, subject to government reporting and inspection, with a strong requirement for trace-ability of both raw materials and finished goods in the event of a recall.
Operations management software is available for all of the operational requirements mentioned in this blog article. For more information on how you can utilize operations management software at your business, please contact Front Line Systems at www.flsinc.net.
(This article has been written by Fred Dean, business management software consultant in Connecticut) 
​About

Front Line Systems

Front Line Systems is an ERP Consulting Firm with headquarters in Minneapolis, Minnesota. We are passionate about helping businesses solve their accounting, CRM, manufacturing and warehouse concerns. We believe that your business has an amazing capacity for innovation and growth, and that technology can help you realize that capacity.
Front Line Systems is a technology partner that solves problems and creates solutions for the life of your business.

We provide business management software solutions including operations management software implementation, support and consulting services in Minnesota, Wisconsin, Virginia, DC, Maryland, Connecticut (New England). We serve clients across the US. Contact Front Line Systems at 866-435-0243 or visit us online at www.flsinc.net. We look forward to serving you.