Sage Enterprise Intelligence

​Front Line Systems is excited to announce the addition of Sage Enterprise Intelligence to our business intelligence software offerings. An integrated, easy to use Business Intelligence software solution, Sage Enterprise Intelligence provides a real time view of customer's data, allowing you to make better decisions in a timely manner.  It can be used in multiple interfaces (web, mobile and Excel).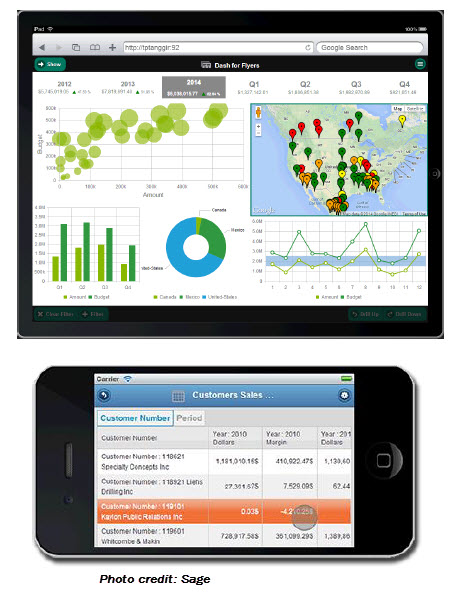 Sage Enterprise Intelligence Benefits:
​It connects to Sage 300 ERP and provides you with actionable business information. It allows you to:
Review key performance indicators to simplify business operations analysis
Make timely, well-informed decisions with flexible reporting.
View business intelligence data on the web and your mobile device and more
Would you like to simplify your business operations analysis? For more information on Sage Enterprise Intelligence for Sage 300 ERP or any of our other business intelligence software solutions, please contact us at 866-435-0243.
Review and bookmark our Ultimate Sage 300 Guide for Sage 300 Users.
More Sage Enterprise Intelligence for Sage 300

ERP

Resources
Download brochure of Sage Enterprise Intelligence (pdf)
See detailed overview of Sage Enterprise Intelligence (pdf)
About Front Line Systems
Front Line Systems is an business technology solutions consulting firm with headquarters in Minneapolis, Minnesota. We are dedicated to helping businesses solve their accounting, CRM, manufacturing and warehouse concerns. We believe that your business has an amazing capacity for innovation and growth and that technology can help get you there.
Front Line Systems is a technology partner that solves problems and creates solutions for the life of your business. We provide CRM Software implementation, support and consulting services in Minnesota, Wisconsin, Virginia, DC, Maryland, Connecticut (New England) and serve clients across the US.