New to Sage CRM?
If you are new to Sage CRM, the first thing you will do when you login to Sage CRM is feel your way around. To help make this process easier for you, we would like to share a few tidbits from each of the different navigation buttons on the header of Sage CRM. In this blog article we will focus on Dashboards.
Sage CRM Dashboards
Dashboards – When you first log into Sage CRM you will see the Welcome Dashboard. This Dashboard is chockful of great resources to help you figure out your way around Sage CRM. We highly recommend that you take some time to review the links.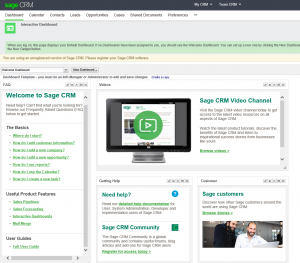 Note: Don't miss the Hot Keys section in the User Guide that shows you how you can navigate Sage CRM without a mouse.
Once you are ready to create your own Dashboard, you will find several dashboard templates you can customize.
Sage CRM: How to Create a New Dashboard?
Click New Dashboard -> Choose Template

Highlight your CRM dashboard of choice and click OK
Give the dashboard a new name and click OK. Get more details on Management dashboards. After selecting the Dashboard of your choice, you can add different gadgets to your dashboard.
Click New Gadget > Choose Template to add predefined gadgets

Or create your own custom gadget from New Gadget -> Create Gadget

There are several different gadgets you can choose from (some examples include) in Sage CRM: Charts, Lists, Quotes, Leads, Notifications, Task Lists, Web Content etc. For more information on the different types of gadgets available in Sage CRM, please visit the Gadget quick reference page  on the Sage CRM site.
For more information on customizing Dashboards in Sage CRM, or to get answers on any of your other CRM questions, please call 866-435-0243.