On a scale of 1 to 10, how would you rate the optimization and efficiency of your warehouse? Here are 10 ways to determine if your warehouse is operating efficiently:
1)     Your order accuracy is 99%
2)     Your inventory accuracy is 99%
3)     Your replenishment accuracy is 99%
4)     Your shipping errors are close to non-existent
5)     You can capture real-time metrics on your warehouse staff
6)     Your returns are rarely due to picking and packing mistakes
7)     Your data entry errors don't carry forward from one department to another (e.g. receiving and picking)
8)     You know exact product codes and locations of inventory items in your warehouse
9)     Once an order is picked, packed and shipped, the shipping information is available to be sent out to customers
10)  Your picking/packing strategy ensures that pickers are always taking the most efficient order fulfillment route to minimize walk time in the warehouse.
At Front Line Systems we recommend AccellosOne WMS for warehouse automation. Read more about AccellosOne WMS here.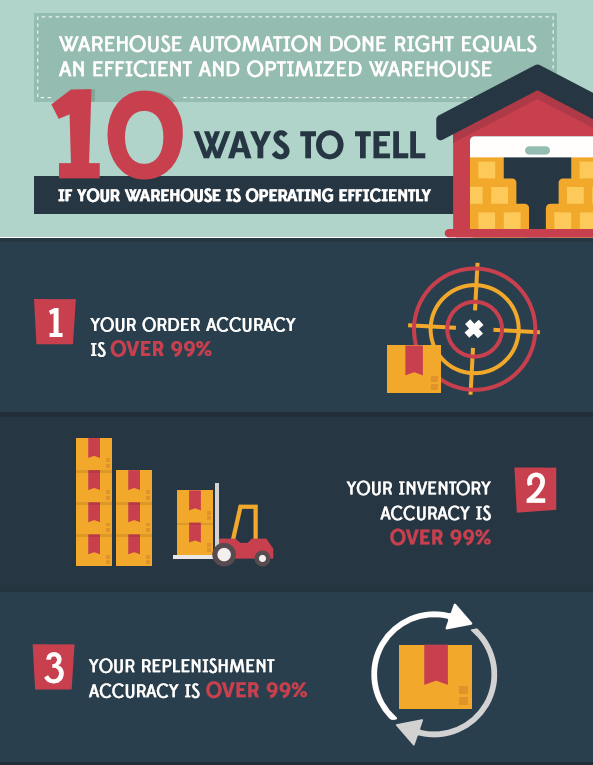 Download infographic (pdf version) For more information on warehouse automation, please call 866-435-0243.
Interested in a FREE warehouse evaluation? Fill out this questionnaire.
About Front Line Systems, Inc.
Front Line Systems is a business technology partner that believes in solving problems and creating solutions for the life of their client's business. They're focused on creating long-term customer relationships and not just making a sale. With a passion for technology and problem solving, they pride themselves in staying up to date with the latest software solutions and industry trends so their customers don't have to. Their consultants and technicians are actively engaged in industry associations including their role on the Business Partner Advisory Council (BPAC) for Sage 300 ERP.
For more information, please visit www.flsinc.net or call 866-435-0243.